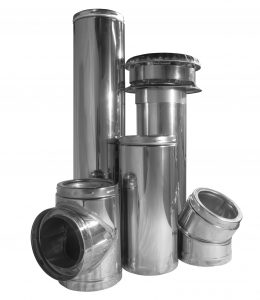 DuraPlus 2  DP2
Double-Wall Chimney
The DP2, with its double-wall all-stainless-steel chimney and insulation, minimizes heat loss through the chimney walls, and can withstand the intense heat. The free-floating inner lining is attached only to the male coupler at the top, expanding and contracting freely with temperature fluctuations. The external casing of the DP2 carries the structural load.

Applications
DuraPlus 2 (DP2) is a double-wall, all-fuel chimney system for use with wood, gas, oil, or coal burning appliances.
Materials and Construction
1" Mineral fiber insulation encased between inner and outer walls made of .016" 430 Stainless Steel.
Clearances
2" Clearances to combustibles.
Diameters
6" & 8"
Listings
Listed to UL 103HT by Intertek.
Warranty
Limited Lifetime Warranty
Installation Instructions:
Warranty: