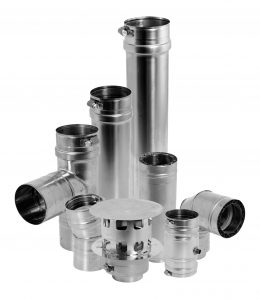 FasNSeal®  FNS
Single-Wall Special Gas Vent
All FasNSeal® (single-wall) vent lengths and components feature patented built-in mechanical locking band and triple-lipped directional gaskets. All pipes and components are engineered with smooth clean welds located 90° from mechanical locking bands. This construction feature allows for ease of installation. The ½" air space between the inner and outer wall on FasNSeal® W2 helps to reduce the clearance to combustibles in addition to creating a heat shield for additional safety.

Applications
FasNSeal is for use with natural gas or propane Categories II, III and IV appliances or Canada's Type BH Gas Vent Systems, having a maximum rated operating temperature of 480°F and a maximum positive pressure of 15″ (FasNSeal Flex 6″) water column. FasNSeal can be used on a wide range of applications, including: high efficiency gas boilers, furnaces, booster heaters, pool heaters, water heaters, unit heaters, or tankless water heaters.
Materials and Construction
3″–7″: AL29-4C or 316L.016″
8″–12″: AL29-4C or 316L.019″
14″–16″: AL29-4C or 316L.024″
Diameters
3″ – 16″.
Listings
ETL Listed to UL 1738 and ULC S636. 
Warranty
Limited Lifetime Warranty
Refer to our Typical Venting Installation drawings to select the appropriate component parts for your installation.
More Typical Installations:
Installation Key
1
Rain Cap
2
Storm Collar
3
Variable Pitch Roof Flashing
4
Vent Length
5
Adjustable Vent Length
6
Firestop/Flat Flashing
7
Horizontal Drip Tee
8
Elbow
9
Universal Condensate Drain
10
Appliance Adapter
11
Top Plate*
12
Female Flex Adapter
13
FasNSeal Flex
14
Male Flex Adapter
15
Standard Tee
Commercial Applications
Commercial projects may require custom parts and unique system designs. DuraVent offers complete project assistance:
Engineering Services: Personalized system design services offer comprehensive CAD submittal drawing and complete bills of materials.
Custom Parts: If your project requires innovative solutions, contact DuraVent for custom parts that meet your specific project needs.
FasNSeal W2: FasNSeal W2 is the ideal choice for commercial applications where there is a need for low clearances to combustibles.
Up to 16" Vent Diameters: Many commercial applications require large diameter systems due to the units size and output. Large diameters are available in single and double wall, featuring FasNSeal's triple lipped directional gaskets and built-in locking band which provides a safe and convenient installation.